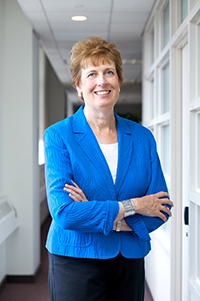 Welcome to NYU Rory Meyers College of Nursing!
2016 was our most exciting year yet.  Thanks to the generosity of Howard and Rory Meyers, we accepted a $30 million gift that will be used to fully fund the education of a number of first-generation, low-income undergraduate nursing students every year as well as support faculty to pursue new and rigorous programs of research.  There are so many wonderful things to celebrate about this historic gift, but I can think of no bigger thrill than for our institution to be named after Rory, a beloved wife, nurse, and philanthropist!
This gift comes at a critical moment in healthcare – a time for the re-imagining of how best to deliver high-quality, affordable care. And nurses are leaders in the innovation required to tackle this challenge, and more broadly, the world's most pressing issues: health disparities, poverty, mental health, climate change, chronic illness, substance abuse, and the effects of an aging population. 
As a nationally recognized leader in nursing education and research, our College and its distinguished faculty work hard each day to ensure that tomorrow's nurses and scientists are prepared to advance quality health care for all as interprofessional leaders, clinicians, and educators.  In 2016, U.S. News and World Report ranked NYU Meyers' graduate nurse practitioner in gerontology program #2 in the country and the National Institutes of Health (NIH) ranked us #8 in NIH research funding, which reflects our commitment to pursue new knowledge to improve healthcare. In addition, we are honored to receive the prestigious designation as a Center of Excellence in Nursing Education from the National League for Nursing.
Each day, as I move about our building, the city and Washington Square, I am motivated by the energy and vitality! Our students, faculty, and administrators are rising to society's challenge to provide humane, pioneering care to anyone who needs it. It is most certainly an exciting time to be a nurse and to be at the College.
Whether you are looking to pursue or advance your nursing career, or if you are interested in joining the ranks of a talented interdisciplinary faculty, NYU Meyers offers a solid foundation upon which to build your future.

Eileen Sullivan-Marx, PhD, RN, FAAN
Dean & Erline Perkins McGriff Professor