Clinical Simulation Learning Center named for Joan K. Stout, RN, FAAN
November 10, 2022
NYU Meyers has named its state-of-the-art simulation center the Joan K. Stout, RN, FAAN Clinical Simulation Learning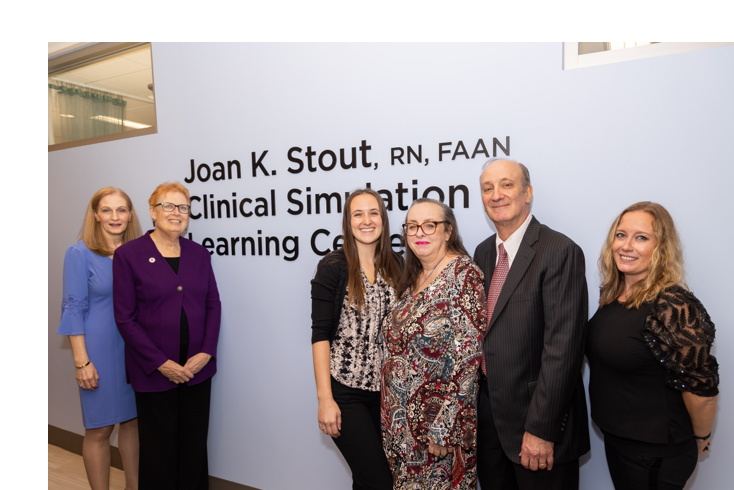 Center in recognition of a significant grant from the Hugoton Foundation. The grant establishes an endowment to provide ongoing support for the center and the cutting-edge technology used to train the next generation of nurses.
Stout, a registered nurse and the president and managing director of the Hugoton Foundation, has been a leading supporter of nurses and nursing education for seven decades and Hugoton Foundation has been a major supporter of NYU Meyers for nearly three decades. Previous grants to NYU Meyers have funded nursing research and the purchase of simulation equipment and computer-based educational tools to give nursing students hands-on clinical experience.
"Support from Joan Stout and the Hugoton Foundation has already had an impact on thousands of our nursing students—and each student has the potential to help thousands of patients throughout their careers as nurses. This generous grant speaks to Joan's continued commitment to excellence in nursing education and care, and enables us to continue preparing our students with the most up-to-date learning technology available," said Eileen Sullivan-Marx, dean and Erline Perkins McGriff professor.
The 10,000-square-foot Joan K. Stout, RN, FAAN Clinical Simulation Learning Center is designed to simulate a hospital and outpatient environment. Covering two floors at 433 First Avenue—the current home of NYU Meyers, which opened in 2015—the center allows students to enhance their clinical skills and nursing knowledge in a safe learning environment through the use of computerized manikins, standardized patients, task trainers, and other high-tech hospital equipment. More than 1,200 undergraduate and graduate students rotate through the center each week, putting their clinical judgment, knowledge, communication, and teamwork skills to work.
"Simulation learning is vital for nursing education. By recreating hands-on clinical experiences that mimic what happens in hospitals and outpatient settings, we help students to develop the skills that they then bring to the bedside in their clinical placements—and ultimately into their careers as nurses," said Natalya Pasklinsky, executive director of simulation learning.
The COVID-19 pandemic illustrated how quickly healthcare can evolve, compelling healthcare workers to swiftly adopt new tools and learn new procedures and skills. Technology has played an important role in helping current and future healthcare workers keep pace with the changing environment.
For instance, in the spring of 2020—when hospitals in New York City were overwhelmed with the first wave of COVID-19 patients and clinical rotations for nursing students were canceled—the team at the Joan K. Stout, RN, FAAN Clinical Simulation Learning Center rapidly implemented a series of new technologies to create robust virtual simulations. The technologies included software with voice-activated nurse avatars, virtual reality with scenarios in which students had to accurately diagnose patients, and using Zoom to simulate a telehealth visit with a standardized patient experiencing mental health issues. New York State approved these virtual simulations to count toward students' required clinical hours, enabling students to graduate on time and enter the workforce during a time when they were critically needed.
The new funding for the Joan K. Stout, RN, FAAN Clinical Simulation Learning Center will sustain existing educational technologies and high-tech systems that integrate with hospitals, including the use of Epic, the electronic health records system used by most medical centers in the United States. In 2020, NYU Meyers, in collaboration with NYU Langone Health, became one of the first nursing schools to launch a simulated version of Epic to train nursing students in the documentation. The funding will also allow the center to introduce new technologies, including growing the curriculum involving virtual reality and augmented reality, which can be used to study anatomy and physiology, practice the administration of medications, and much more.