NYU Meyers receives $7 million gift from Howard and Rory Meyers for scholarships, interprofessional education
October 13, 2020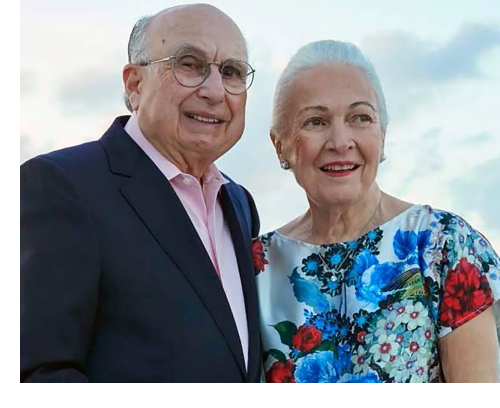 NYU Rory Meyers College of Nursing has received a generous gift from Howard and Rory Meyers to support a new program for traditional undergraduate nursing students in their third year. The $7 million scholarship gift, which will be effective over five years, will go toward an interprofessional clinical education experience at NYU Winthrop Hospital in collaboration with NYU Long Island School of Medicine.
Interprofessional education is an expanding phenomenon aimed at developing effective working relationships between different types of healthcare students and practitioners to support optimal health outcomes. Research shows that the benefits of interprofessional healthcare—for nurses, healthcare professionals, patients and their families, and communities—not only improves patient outcomes, but leads to fewer preventable errors, reduced healthcare costs, and improved relationships with other disciplines.
The scholarships supported by the gift from the Meyers family will provide full tuition and room in board for select third-year nursing students, and will begin in the fall of 2021. Nursing students will collaborate in integrated classes with their medical-student colleagues, who will simultaneously be involved in clinical rotations at NYU Winthrop.
"I can think of no better time to start a program like this one, which encourages collaboration and breaks down walls between healthcare colleagues," said Eileen Sullivan-Marx, PhD, RN, FAAN, dean of NYU Meyers. "This year, we have seen the power of teamwork and resiliency across the globe as we confront the many challenges of COVID-19. I am proud that New York, one of the early epicenters of the pandemic, will be home to this new program and that our students and their patients will benefit from our ability to deeply integrate interprofessionalism during this crucial learning period for future nurses and physicians."
More information regarding details of the scholarships, including how students will be selected, will be available in the spring of 2021.
"I wish to thank Howard and Rory Meyers and their entire family for establishing this incredibly important and timely program, which builds on their $30 million historic naming gift in 2015. Their leadership has put NYU Rory Meyers College of Nursing, and New York University as a whole, at the vanguard of healthcare education in this country," said Sullivan-Marx.
Sullivan-Marx also acknowledged the support of Steve Shelov, MD, dean of NYU Long Island School of Medicine, and Debra Albert, senior vice president and chief nurse executive of NYU Langone Health, in bringing this interprofessional program to fruition.