Prof. Clark-Cutaia and Dean Gilles honored by Greater NYC Black Nurses Association
December 16, 2021
The Greater New York City Black Nurses Association honored Maya Clark-Cutaia, PhD, MSN, RN, assistant professor at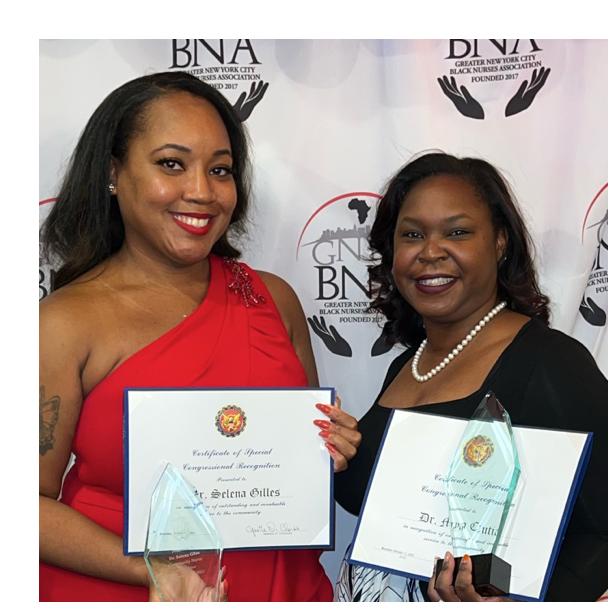 NYU Meyers, and Selena Gilles, DNP, ANP-BC, CNEcl, CCRN, associate dean of the undergraduate program and clinical associate professor at NYU Meyers, last weekend at its 2021 Scholarship and Awards Gala.
Prof. Clark-Cutaia was named the 2021 Nurse Researcher of the Year. Her research focuses on the increased risk of morbidity and mortality that result from end-stage renal disease (also known as kidney failure) and hemodialysis renal replacement therapy. Her long-term goal is to improve the quality of life for those with end-stage renal disease by decreasing the symptom burden. She is currently collaborating with colleagues at NYU Langone Health to study COVID-19 vaccine hesitancy among patients with kidney disease, a project funded by KidneyX, a public-private partnership between the U.S. Department of Health and Human Services and the American Society of Nephrology.
Dean Gilles received the 2021 Community Service Award and a citation from New York State Assembly Member Phara Souffrant Forrest, who is also a nurse. Dean Gilles is a founding member and chair of the Programming and Community Service Committee of the Greater New York City Black Nurses Association. Throughout the pandemic, she has led numerous efforts to support the community, including food drives, collecting school supplies for local students, and organizing and volunteering at COVID-19 vaccination events at churches in Brooklyn and Queens.
In addition, both Prof. Clark-Cutaia and Dean Gilles received a Certificate of Special Congressional Recognition from Congresswoman Yvette Clarke, the representative of the Ninth Congressional District of New York.