Prof. Sally S. Cohen receives 2019 Lois Capps Policy Luminary Award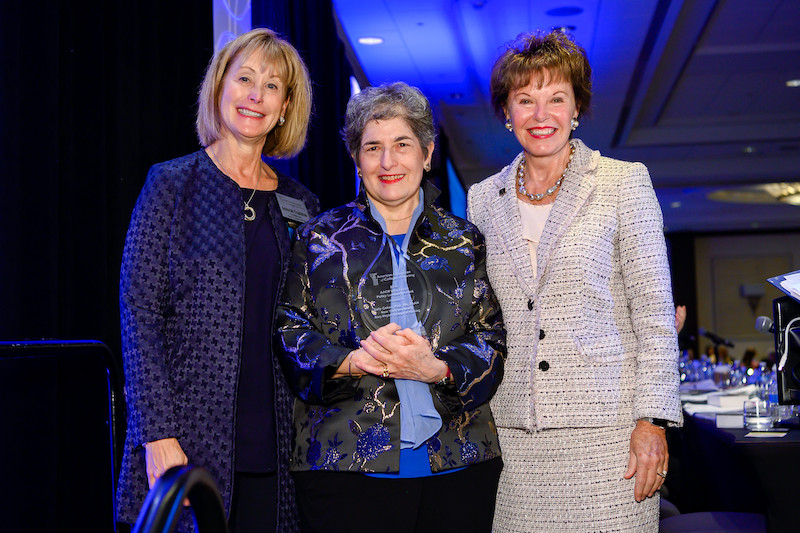 October 31, 2019
Last week, Prof. Sally S. Cohen, PhD, RN, FAAN, received the 2019 Lois Capps Policy Luminary Award from the American Association of Colleges of Nursing (AACN) for her exceptional contributions to the nursing workforce and healthcare policy. The annual award recognizes those demonstrating monumental leadership in advancing healthcare policy and the nursing profession at the national level.
For decades, Cohen has been at the forefront of successful integration of health policy into nursing education. She directed the Robert Wood Johnson Foundation Nursing and Health Policy Collaborative at the University of New Mexico, which prepared nursing PHD students to be leaders in health policy.
As director of policy and research at the National League of Nursing, she helped advocate for legislation that established the National Institute of Nursing Research in 1985. Later, she developed and directed the Nursing Management, Policy, and Leadership specialty at the Yale School of Nursing, where she was honored with the "90 Outstanding Yale Nurses" award in 2013.
Since joining NYU Meyers as faculty in 2015, she has continued her mission to prepare a new generation of nurses to meet the nation's increasingly complex health policy needs. This includes her commitment to advancing state and national policies on healthcare coverage, bullying prevention, and children's rights.
"Being at NYU Meyers has given me new opportunities to collaborate with faculty across the university who share my commitment to improving policies for children," said Cohen. 
Cohen was also selected for her role in elevating the image of nursing in the national policy arena, including as editor-in-chief of Policy, Politics & Nursing Practice. There, she helps create a vibrant forum for nurses and others from around the world to share ideas and analyses of policies and political activities that affect nursing practice in all venues of care.
"Policy scholarship requires an appreciation of how politics affect policy outcomes. The most exciting aspect of this work is when nurse scholars harness their practice expertise to analyze politics and influence evidence-based policies," said Cohen.   
Earlier this year, she co-authored an article in Nursing Outlook to help close gaps and end inequalities in US policies for children, especially around health and education. It called for children's advocates to move beyond the current rights-based approach and consider developmental, economic, capabilities, and mutualism frameworks, with the goal of improving outcomes for all children.
"[We] sincerely thank Dr. Cohen for empowering future generations of nurses to be lifelong advocates for our most vital issues," acclaimed AACN, which represents over 800 schools of nursing at public and private universities nationwide as the national voice for academic nursing.
The NYU Meyers community joins in congratulating Prof. Cohen on this prestigious and much-deserved award.