UHF honors Dean Eileen Sullivan-Marx for promoting nursing and improving care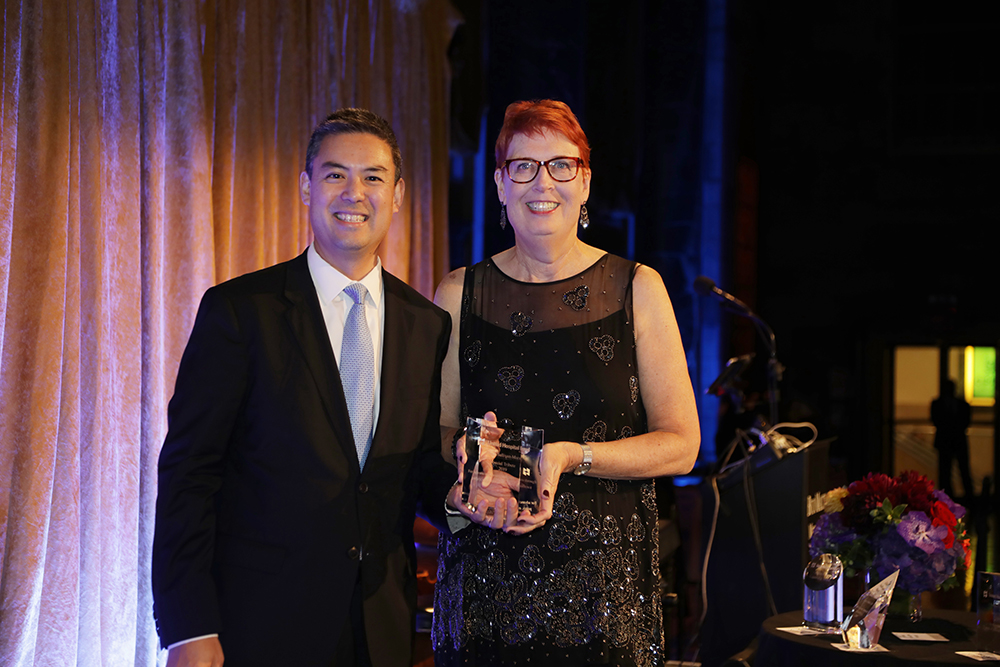 October 07, 2019
Annual Gala also honors Hearst President & CEO Steven R. Swartz, Mentoring in Medicine co-founder Dr. Lynne Holden, and UHF Chairman Emeritus J. Barclay Collins II
United Hospital Fund awarded a Special Tribute tonight to Eileen Sullivan-Marx, PhD, RN, FAAN, dean of NYU Rory Meyers College of Nursing and president of the American Academy of Nursing, for advancing nursing and healthcare through policy, education, and clinical excellence.
Sullivan-Marx is one of the nation's most distinguished nursing researchers, educators, and policy leaders, with a long history of promoting innovation in primary and geriatric care. Since taking the helm at NYU in 2012, she has made the college one of the top nursing research institutions in the country. On October 1 she became president of the prestigious American Academy of Nursing, where she will work closely with the Academy's 2,700 Fellows to promote nursing and patient-centered care.
"Nurses are uniquely positioned to address the critical needs and concerns of individuals across the lifespan in the U.S. and around the world—and do so every day," says Sullivan-Marx. "I'm thrilled to be working with all of the Fellows to promote nursing and patient-centered care."
Sullivan-Marx established her leadership in New York after becoming dean of NYU Rory Meyers College in 2012. Upon her appointment, she made research a priority, helping the College earn a spot among the top ten research-intensive nursing schools in the country. She also has overseen a four-fold increase in applications since she started—in 2019, the College received more than 2,000 applications for the traditional four-year baccalaureate program. With a focus on innovation in education, the College boasts an advanced clinical simulation center in a state-of-the-art building—one of just a few in New York that prepares nurses in simulation for acute care, behavioral health, and community care.
Her influence and impact extend to multiple aspects of nursing, including national policy. As the first nurse named to the American Medical Association's committee for determining appropriate valuations for physicians' work, she was instrumental in changing national reimbursement practices that elevated the acceptance and use of nurse practitioners.
UHF President Anthony Shih, MD, presented the award to Sullivan-Marx at UHF's annual gala at Cipriani 42nd Street. Hearst President & CEO Steven R. Swartz, Mentoring in Medicine co-founder Dr. Lynne Holden, and UHF Chairman Emeritus J. Barclay Collins II were also honored at the event, which raised almost $1.6 million and was attended by more than 500 healthcare, business, and community leaders. It marked the opening of UHF's 141st annual fund-raising campaign in support of the organization's work to build a more effective and equitable healthcare system for all New Yorkers.
"Sullivan-Marx has made remarkable and lasting contributions to the field of nursing and to healthcare in New York and nationally," said Dr. Shih. "We are privileged to have her on our board and to be able to honor her here tonight."