Prof. Michele Crespo-Fierro named NAHN 2019 Nurse of the Year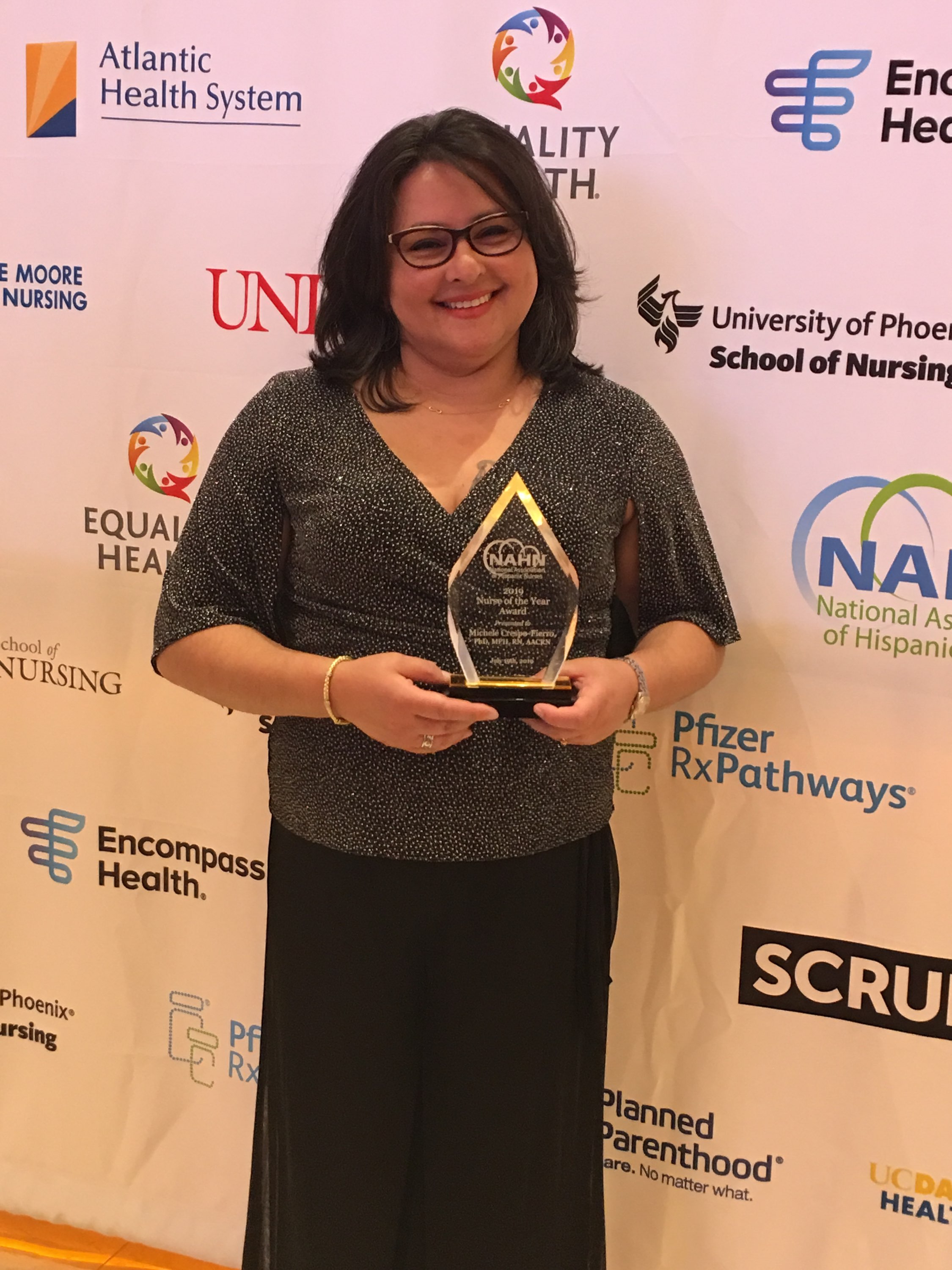 July 30, 2019
The National Association of Hispanic Nurses (NAHN) has named Michele Crespo-Fierro, PhD, MPH, RN, AACRN, clinical assistant professor at NYU Meyers, the 2019 NAHN Nurse of the Year. Prof. Crespo-Fierro received the award at the NAHN Award and Scholarship Gala during the NAHN 44th Annual Conference, held July 16-19 in Reno, Nevada.
Prof. Crespo-Fierro directs the LEAD Honors Program at NYU Meyers and is the founding faculty advisor for student group Latinos Aspiring To Imagine Nursing Opportunities (LATINOS). She is also the president elect of the NAHN New York (NAHN-NY) chapter. Her specialty is HIV nursing, and she has published on the care of people living with HIV/AIDS and the importance of nursing specialization in HIV/AIDS, in addition to developing graduate curricula in HIV care. Her dissertation explored the cultural care needs of Puerto Rican women receiving HIV care from nurse practitioners in New York City.
The NAHN Nurse of the Year Award is given to a nurse who has developed a creative and innovative program, intervention, or strategy to improve the quality of healthcare in the Hispanic community, increase the number of Hispanic nurses, or develop the NAHN organization. NAHN Nurses of the Year have made contributions to improving the healthcare of the Hispanic community across the life span, birth to end-of-life, in any health care environment, and demonstrate innovation, creativity, leadership, and advocacy.
Prof. Crespo-Fierro was nominated for the award for her work sponsoring the Jorge Prada Memorial Scholarship at NYU Meyers. The scholarship honors Jorge Prada, a NYU Meyers adjunct in maternity nursing and past president of NAHN-NY, and provides funds for Meyers students to attend nursing conferences and further their professional development. The first awardee of the scholarship, Mary Avila, attended the NAHN 44th Annual Conference in Reno.