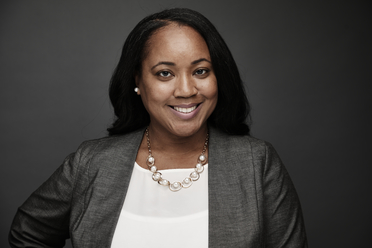 Selena A Gilles
ANEF
ANP-BC
CNEcl.
DNP
FAAN
FNYAM
Clinical Associate Professor

Associate Dean, Undergraduate Program
sg141@nyu.edu
1 212 998 5895
Selena A Gilles's additional information
Selena Ann Gilles is Clinical Associate Professor and Associate Dean of the Undergraduate Program a New York University Rory Meyers College of Nursing. She is an Affiliate Faculty member of the Hartford Institute for Geriatric Nursing (HIGN) where she serves as Co-Director of HIGN Scholars Program. Dr Gilles is also an Affiliate Associate Professor at Howard University College of Nursing and Allied Health Sciences and Volunteer Associate Professor for the State University of Haiti.

She has a DNP from Monmouth University (2014), a MS in Adult Health Nursing from Hunter College, City University of New York, (Cum Laude, 2010) and a BS with a major in Nursing degree from Long Island University (With Honors, 2005). Dr Gilles is a certified Clinical Nurse Educator and is also certified in Critical Care Nursing. Dr Gilles has been an Adult Nurse Practitioner for 13 years, specializing in Neuro and Pain Management. 

Dr Gilles is known for creating and implementing nontraditional immersive teaching/learning innovations to address nationally identified nursing education issues that will enhance student learning/program outcomes. She is regarded as a leader and prelicensure nursing education expert who has implemented curricular innovations that have been evidenced-based, creative and effective teaching strategies that span across multiple courses at Meyers and settings outside of Meyers, having a significant impact on student academic success and role transitions. Her contributions have helped enhance the nursing curriculum, filling identified gaps and answering the new Essentials call for all entry-level professional nurses to have knowledge and proficiencies to practice across a variety of settings in the spheres of wellness/disease prevention and chronic disease management.

Dr Gilles is passionate about the management of acute and chronic pain, as well as opioid overdose prevention. She is the Program Director of the Greater NYC Black Nurses Association Opioid Overdose Prevention Program. She has strong community advocacy and passion for global health, currently working with organizations aimed to serve the underprivileged and underserved communities in Haiti, Ghana, and Nigeria. She has been on seven medical missions. Dr. Gilles is currently a member of six professional organizations/associations, including serving as Past President and current Treasurer of Meyers' Sigma Upsilon Chapter, and Programming and Community Service Committee Chair for the Greater NYC Black Nurses Association. Dr Gilles is an NLN LEAD Alum (2019) Penn Wharton Nurse Executive Leader Alum (2020). She has received the NBNA Under 40 Award (2019), Nurse of the Year Award for Community Service (2020), and Advanced Practice Nurse of the Year Award (2022).  She has also received the Leota P Brown Community Service Award from Chi Eta Phi Sorority, Inc (2021). Dr Gilles is the recipient of the GNYCBNA Nurse of the Year for Community Service (2021) and the NYU Meyers Humanitarian Award (2021). Dr Gilles is also a Fellow of the New York Academy of Medicine (2020), a Fellow of the American Academy of Nursing (2023) and a Fellow of the Academy of Nursing Education (2023). 

DNP - Monmouth University (2014)

MS - Hunter College, City University of New York (2010)

BS - Long Island University (2005)

Primary care

Adult health

Acute care

Neurology

Palliative care

Community/population health

Global

Health Policy

CGFNS International, Inc

New York Nursing Alliance

Sepsis Alliance

National Black Nurses Association, Greater NYC Chapter (GNYCBNA)

Nursing Honor Society Sigma Theta Tau, Upsilon Chapter; Omega Nu Chapter; Alpha Phi Chapter

National League of Nurses

American Academy of Colleges of Nursing

American Nurses Association, New York

American Academy of Critical Care Nurses

American Association of Nurse Practitioners

New York Society of Interventional Pain Physicians

New York Academy of Medicine

DNP's of Color

Faculty Honors Awards

Distinguished Geriatric Nurse Educator, National Hartford Center for Gerontological Nursing

(2023)

Fellow, American Academy of Nursing

(2023)

Certificate of Recognition, Haitian American Nurses Association of Hudson Valley, NY, Inc

(2023)

Heart of Hope Honoree, Nigerian Healthcare Foundation, Inc

(2023)

Fellow, Academy of Nursing Education

(2023)

Inductee, Theta Chi Chapter, Che Eta Phi Sorority, Incorporated

(2023)

NYS Assembly Citation, Hon. Michelle Solages

(2022)

Nurse of the Year: Advanced Practice Nurse, National Black Nurses Association

(2022)

Global Community Service Award, H.E.A.L. Haiti

(2022)

Top 10 Nurses Advancing Diversity and Inclusion, Nurse Deck

(2022)

Forrest NYS Assembly Citation, Assembly Member Phara Souffrant

(2021)

Congressional Achievement Award, Congressman G. Meeks

(2021)

Nurse of the Year: Community Service, Greater NYC Black Nurses Association

(2021)

Leota P Brown Community Service Award; Chi Eta Phi, Inc Theta Chi Chapter

(2021)

JV Haring Humanitarian Award - NYU Rory Meyers

(2021)

Citation of Honor, Borough President D. Richards

(2021)

Certificate of Special Recognition, Rep Yvette Clarke

(2021)

City Council Citation, Council Member A. Adamas and Council Member S. Brooks-Powers

(2021)

Fellow, New York Academy of Medicine

(2020)

Nursing Leaders Program, Wharton

(2020)

Nurse of the Year: Community Service, National Black Nurses Association

(2020)

Woman of the Month, Omega Psi Phi Epsilon Chapter

(2020)

40 Under 40: National Black Nurses Association

(2019)

LEAD Program: National League for Nursing

(2019)

Sigma Theta Tau International Nursing Honor Society

(2010)

Inductee, Nursing Honor Society: Long Island University School of Nursing

(2005)

Publications

The value of including reproductive justice into nursing curricula

The impact of african american nurses: How the implementation of a community-based model increased vaccination rates in marginalized communities in NYC.

Brown-DeVeaux, D., Richards, B., Johnson, J. , III, & Gilles, S. (2022). Journal of National Black Nurses' Association : JNBNA, 23-27.

Opioid Overdose Harm Prevention: The Role of the Nurse in Patient Education

Abstract

Abstract

Opioid overdose continues to affect thousands each year in the United States, with nearly 850,000 lives lost within the last 20 years. It will take a comprehensive and coordinated approach from all members of the health care team and health care institutions, in addition to governmental officials, public safety, and community organizations to mitigate this crisis. Nurses can be instrumental in educating patients, families, and community members about ways to combat this epidemic, instrumental in advocating for their patients, advocating for reform, as well as continuing to bring awareness to this health crisis and provoke dialogue about ongoing solutions to end it.

A clinical exemplar: Assessment of knowledge regarding obesity preventative methods among african american children ages 9 to 11.

Gilles, S. (2020). In M. Bemker & T. Ralyea (Eds.), The DNP degree & capstone project. (1–). DEStech Publications.

Compassionate Care of the Patient Who Uses Substances: Implications for the Infusion Nurse

Abstract

Abstract

Given the high rate of infection secondary to substance use, infusion nurses have a unique opportunity to compassionately engage individuals with substance use problems. Compassion is an essential ingredient of nursing practice, yet compassionate care of the individual who uses substances may seem difficult to navigate. This article provides the infusion nurse with the essential principles of compassionate care of the patient who uses substances. A fundamental understanding of how to work with patients who use substances may enhance the infusion nurse's practice.

Integrating NCLEX and practice readiness in an undergraduate leadership course.

Gilles, S., Godwin, A., & Cayo, S. (2019). In Innovative Strategies in Teaching Nursing (1–). Springer.

Pain in the older adult: affects on patient outcomes and the nurses' responsibility to treat.

Gilles, S. (2019). Geriatric Nursing, 40(2019), 113-114.

Abstract

Abstract

Pain is one of the most widely cited symptoms underlying disability among older adults in the United States. It significantly impacts quality of life of older adults and, in addition, can interfere with sleep, lead to social isolation, depression, and inactivity. Nurses are instrumental in improving the care of older adults with pain and must be equipped with the knowledge, skills, and attitudes to treat them. Nurses not only ensure that basic comforts needs are being met, but by play an import role in pain assessment, ensuring adequate pain relief measures, and advocating for those in pain.

Saving ourselves: Combatting the opioid overdose epidemic in african American communities.

Gilles, S., & Johnson, J. , III. (2019). NBNA News, 15-16.

Cultural competence and psychological empowerment among acute care nurses

Ea, E., & Gilles, S. (2018). In K. Bauce & J. Fitzpatrick (Eds.), Nursing research critique: A model for excellence (1–). Springer.

Nurse practitioners: past, present, and future.

Cayo, S., Gilles, S., & Godwin, A. (2018). NBNA News, 50-52.