"Sick children, if not too shy to speak, will always express this wish. They invariably prefer a story to be told to them, rather than read to them. 
— Florence Nightingale
The revitalized focus on the patients' perspective in healthcare provides an added impetus for the contemplation of the patient experience. Nursing Humanities aims to provide a qualitatively robust approach to enhance patient-centered care competencies of future nurses through a dynamic programming that purposefully synthesizes the art and science of nursing, humanities, narrative medicine, and interprofessional education 
The program is designed to enrich the education of nursing students through the application and cultivation of aesthetic patterns of knowing. In addition to evidence-based practice, aesthetic knowing has been recognized for many decades as a valid and an indispensable component in the development of ethical comportment of nurses and the ontological evolution of the nursing profession. However, in a 2010 report on the state of the science of nursing education, Benner and colleagues reported that nursing programs are deemed not generally effective in engaging the students in pedagogical strategies that integrate social sciences and the humanities.  
The discovery of the nature mankind, caring, health and illness, and interprofessional collaboration is supported by programming including:
Thematic museum and gallery tours 
Viewing of relevant live performances
Thematic discourse led by visiting experts in nursing, humanities, narrative medicine and interprofessional education
Interprofessional Workshops at the confluence of health and the humanities
Nursing Humanities is supported by New York University's Curriculum Development Challenge Fund. 
Featured Events
Our featured events headline the most important events related to Nursing and the Humanities. 
NARRATIVE MEDICINE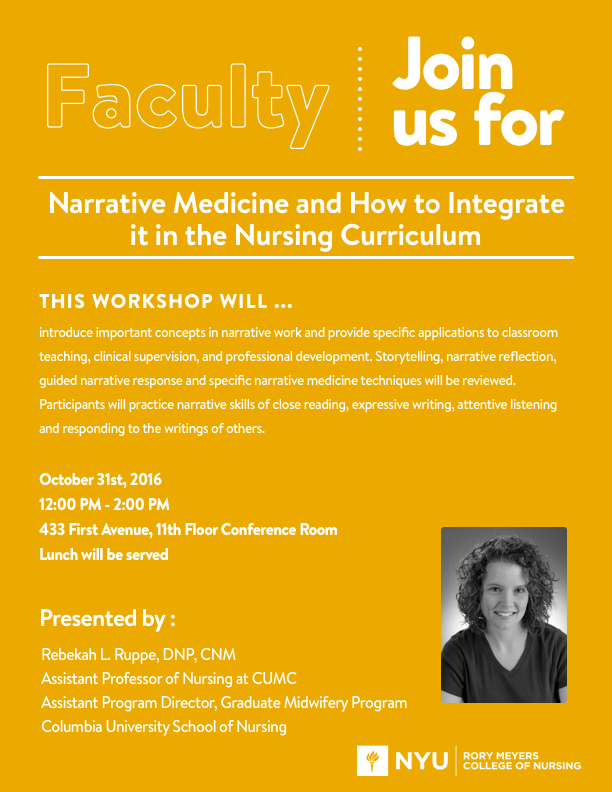 When: October 31st, 2016
Where: 433 First Avenue, 11th Floor Conference Room
This workshop will introduce important concepts in narrative work and provide specific applications to classroom teaching, clinical supervision, and professional development. Storytelling, narrative reflection, guided narrative response and specific narrative medicine techniques will be reviewed. Participants will practice narrative skills of close reading, expressive writing, attentive listening and responding to the writings of others.
HEALTH AND ILLNESS IN THE ARTS
When: Saturday, November 5th, 2016, from 3 p.m. to 4 p.m.
Where: Metropolitan Museum of Art- 1000 5th Avenue, New York, NY, 10028
The museum visit is akin to walking rounds at the hospital—rounds that enable us not just to see the triumph of artistry over the mundane and the monotonous, but to sharpen our observational skills. The visit aims to initiate tiny ripples in the reflecting pool of the observer's mind. Observing art is a sublime exercise in truly looking and feeling—one that can help us become better health care providers.
LA BOHEME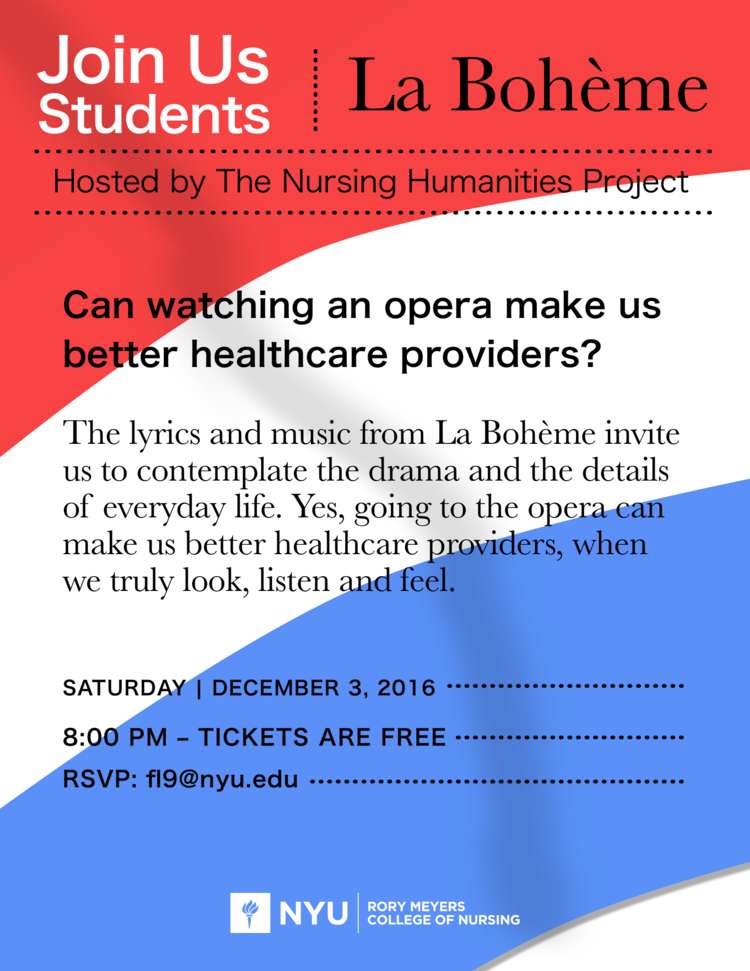 Where: New York Metropolitan Opera
When: Saturday, December 3rd, 8 PM
Cost: Tickets are free; RSVP to fl9@nyu.edu
TENEMENT MUSEUM TOUR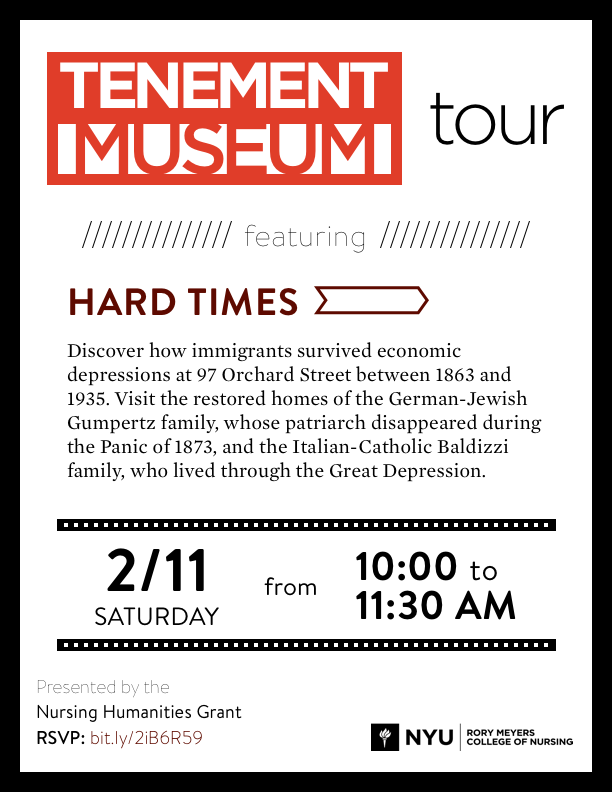 When: February 11, 10:00 AM 
Where: 103 Orchard St, New York, NY 10002
Cost: Tickets are free, RSVP bit.ly/2iB6R59
MISS SAIGON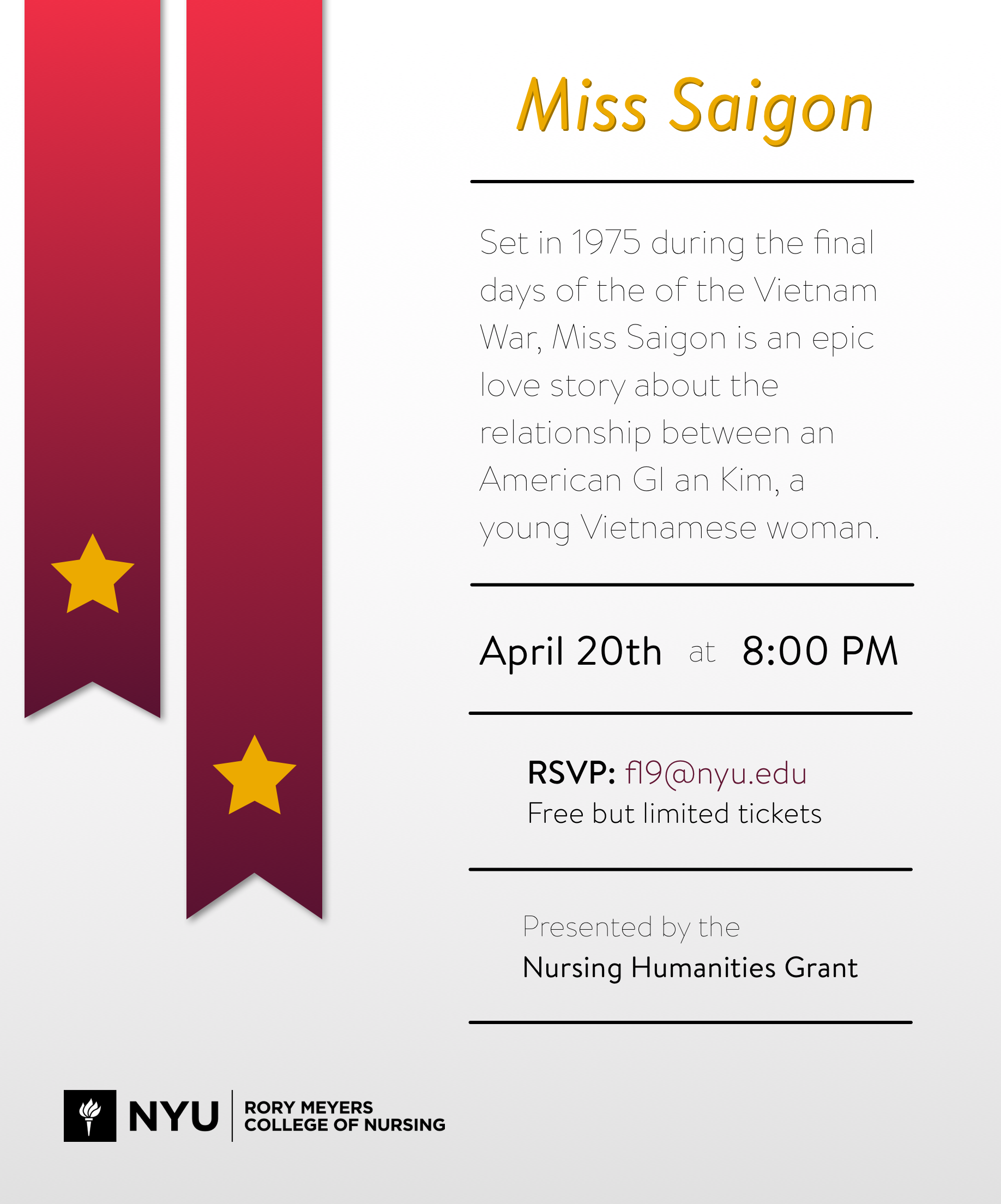 When: April 20, 8:00 PM
Cost: Tickets are free, RSVP fl9@nyu.edu
New York Choral Society and Orchestra

When: February 6, 8:00 PM
Cost: Free, RSVP bit.ly/2kZ8OpK
First One In, Last One Out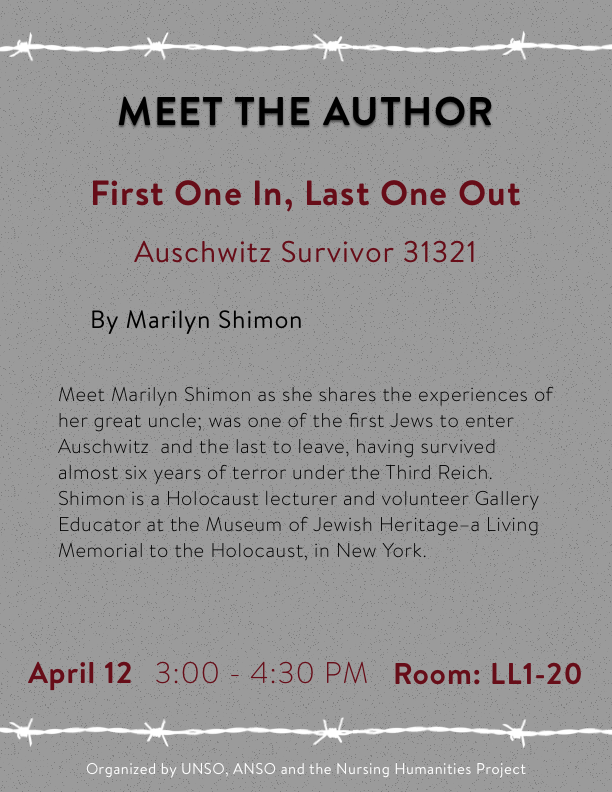 When: April 12, 3:00 - 4:00 PM
Where: 433 1st Ave. LL1-20
The MET Cloisters Tour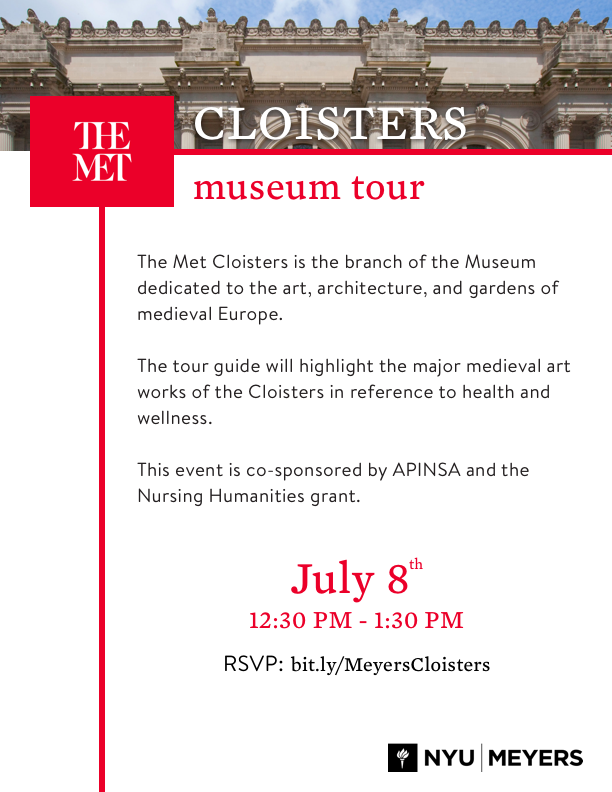 When: July 8th, 12:30 - 1:30 PM
Where: 99 Margaret Corbin Dr
Health and Illness in the Arts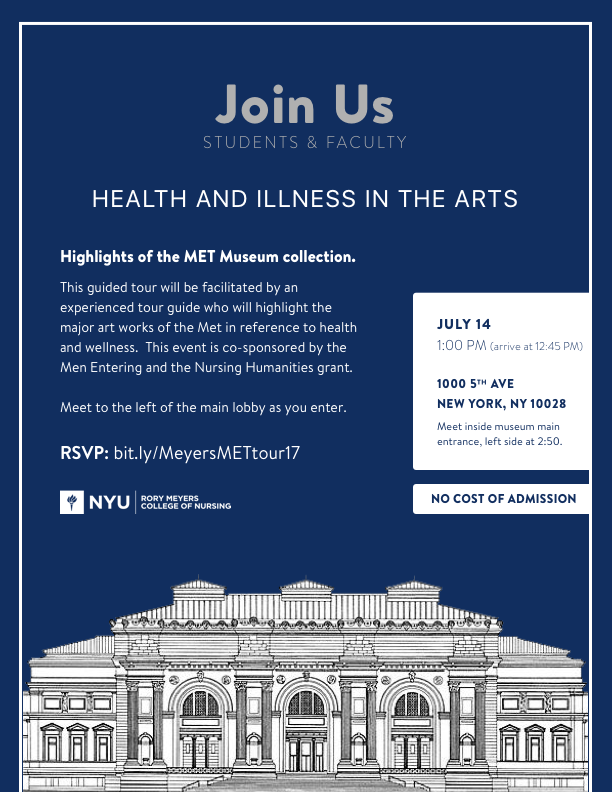 When: July 14, 1:00 PM - 2:00 PM
Where: Metropolitan Museum of Art- 1000 5th Avenue, New York, NY, 10028
Turandot at the Metropolitan Opera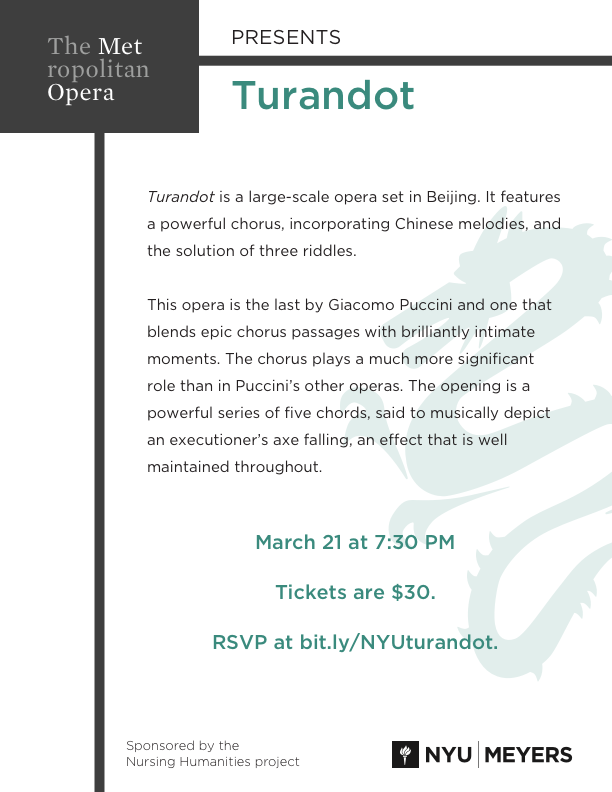 When: March 21, 7:30 PM
Where: Metropolitan Opera House- 30 Lincoln Center Plaza, New York, NY 10023
Nursing and Humanities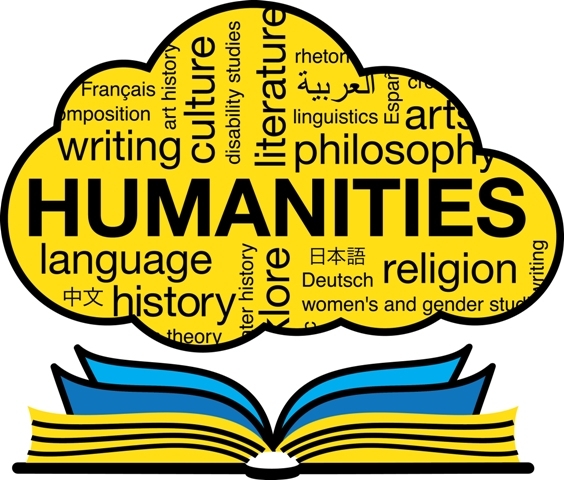 The integration of the humanities increases the abilities for nurses to see the patient holistically, enhances understanding about self, increases sensitivity to the voices of others and facilitates alternate ways of learning (Smith et al., 2004). Nursing, after all, is not philosophy, history, art or literature; it is not a social science. However, these humanities are included in nursing at all of its levels and manifestations (Drummond, 2003). 
Nursing and Fine Arts
"Art belongs to the people. It belongs to those who "stand here ironing," to those who clean city streets, to those who work in front of computer screens, as well as to those who read in the ivy halls.
— Pat Schneider (1996) from the book 'The Writer as an Artist: A New Approach to Writing Alone and With Others.'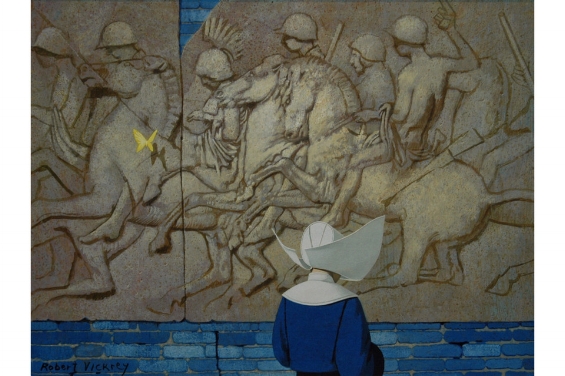 Nursing and Visual Arts
"Photography, a form of visual art, has been used to enhance personal knowing by inspiring introspective discussions surrounding nursing care.
— Smith, R.L., Bailey, M., Hydo, S.K., Lepp, M., Mews, S., Timm, S., & Zorn, C. (2004) Nursing Education Perspectives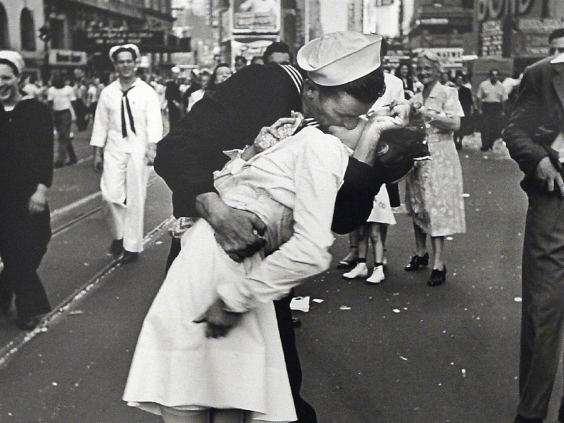 Nursing and History
"Those who cannot learn from history are doomed to repeat it. Those who do not remember their past are condemned to repeat their mistakes. Those who do not read history are doomed to repeat it. Those who fail to learn from the mistakes of their predecessors are destined to repeat them.
— George Santayana (1905) from the book 'The Life of Reason'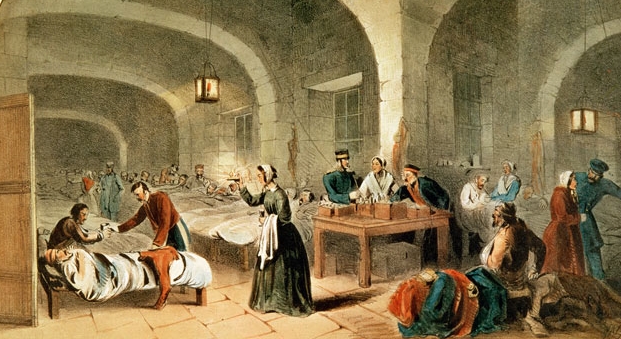 Nursing and Literature
"The mind trained to read, interpret and discuss literature is a mind trained to read and perceive experiences of patients and nurses in a most useful and important way
— Beckingham, C. (1986) Journal of Advanced Nursing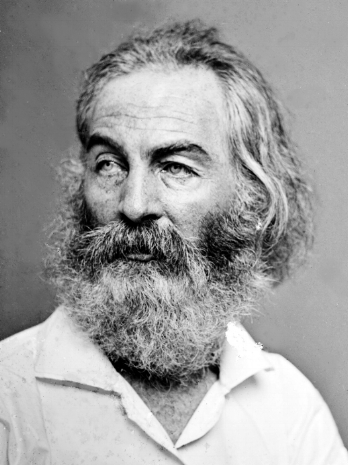 Nursing and Music
Music is important to nursing care and the studying of Nursing in more aspects than just a means of Music Therapy (Dellasega et al., 2007). Throughout history, music has been used for the art of care for its therapeutic purposes in order to relieve anxiety and pain and to positively effect an individual's physical, psychological, cognitive and social functioning (Onieva-Zafra et al., 2013). Music, along with the other branches of humanities, provides a foundation and humanistic understanding (Dellasega et al., 2007).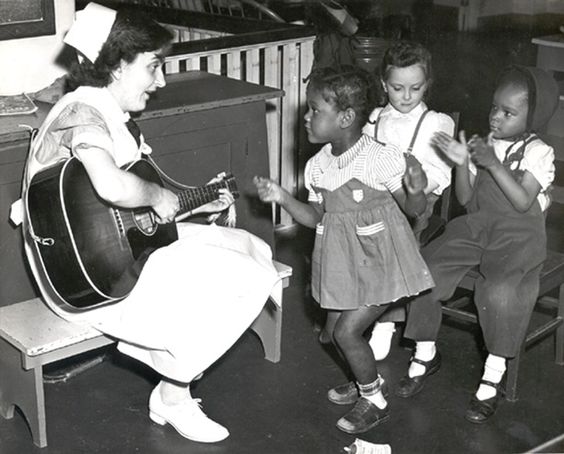 Nursing and Philosophy
"Nursing must always return to its basic principles, that of the human condition (humanitus).
— John S. Drummond from the works of French philosopher Jacques Derrida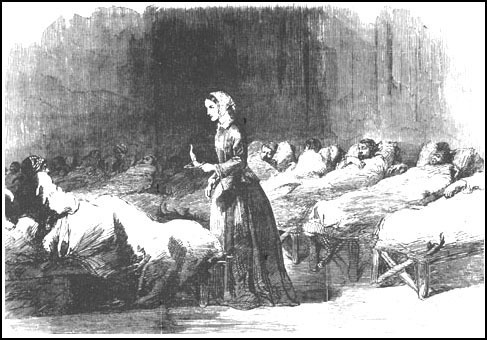 Nursing and Religion
Religion allows nurses to bring a variety of critical and interpretive approaches to bear on their relationships to important healthcare issues and nursing care (Darbyshire, 1993).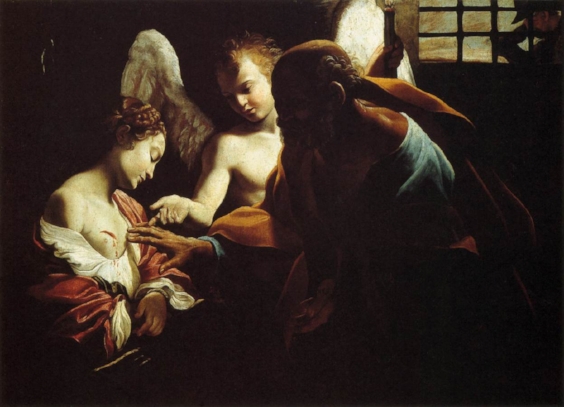 Nursing and Language
"The Humanities, the branches of knowledge that address the state or quality of being human and living authentically, have been called the language of the soul.
— Smith, R.L., Bailey, M., Hydo, S.K., Lepp, M., Mews, S., Timm, S., & Zorn, C. (2004) Nursing Education Perspectives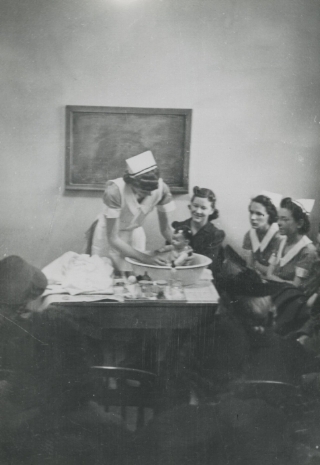 Mission
Our aim is to provide high-quality, inquiry-based educational programming in humanities. We enhance synthesis of qualitatively robust approaches to developing patient-centered care competencies of nurses who will value reflection, creativity, and discovery. 
Leadership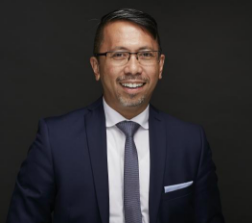 Fidel Lim has worked as a critical care nurse for 18 years and concurrently, since 1996, has been a faculty member at New York University Rory Meyers College of Nursing. As the faculty advisor to various student groups (Undergraduate Nursing Student Organization, Asian Pacific-Islander Nursing Students Association, Men Entering Nursing, and the LGBT group) he has, among other things, fostered salience in nursing education through high-quality extra-curricular programming. His work as a Nurse Educator in a Magnet-designated hospital provides sustainable staff-focused educational support. He is particularly interested in bridging gaps in nurse engagement and practice excellence. Dr. Lim has published articles on an array of topics ranging from clinical practice, nursing education issues, LGBT health disparities, reflective practice, men in nursing, and Florence Nightingale among others.