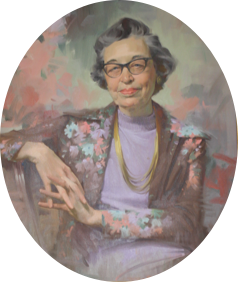 Martha Elizabeth Rogers was born May 12, 1914, in Dallas, Texas, the eldest of four children. She began her collegiate education at the University of Tennessee in Knoxville, where she studied science from 1931 to 1933. She received her nursing diploma from Knoxville General Hospital School of Nursing in 1936. In 1937 she received a B.S. from George Peabody College in Nashville. Her other degrees include an M.A. in public health nursing supervision from Teachers College, Columbia University in 1945 and an M.P.H. in 1952 and a Sc.D. in 1954, both from Johns Hopkins University.
For 21 years, from 1954 to 1975, Martha Rogers was a professor and head of the Division of Nursing at New York University. In 1979 she became professor emeritus and was an active member of the nursing profession until her death on March 13, 1994.
Dr. Rogers' early nursing practice was in rural public health nursing in Michigan and in visiting nurse supervision, education, and practice in Connecticut. She then established the Visiting Nurse Service of Phoenix, Arizona. Dr. Rogers' publications include three books and more than 200 articles; she wrote and published extensively. She lectured in 46 states and around the world.
Dr. Rogers received honorary doctorates in Science, Letters, and Humane Letters from such renowned institutions as Duquesne University, University of San Diego, Iona College, Fairfield University, Mercy College, and Washburn University of Topeka. In addition, Dr. Rogers received numerous awards and citations for her contributions and leadership in nursing, many of which have been established in her name.
The Science of Unitary Human Beings
Dr. Rogers' Science of Unitary Human Beings is used as a conceptual framework in courses of study. Conceptual models give students a "hook" to which they can hang theories and evolve abstraction.
Dr. Rogers presented her evolutionary model in 1970 with the publication of "An Introduction to the Theoretical Basis of Nursing." This view presented a drastic, but attractive way of viewing human interaction and the nursing process. Her concepts are derived from the view of the universe as a collection of open systems of which we interact independently and continuously without causality.
Donors who made the Martha E. Rogers Group Study Room Possible (as of 6/14/17)

Dr. Diane Catherine Adler
Dr. Mary J. Giuffra
Dr. Luz Sobong Porter
Mrs. Lois Edwards Augustus
Dr. Jamesetta A. Halley-Boyce
Ms. Charlene C. Powell
Dr. Susan Hunt Babinski
Dr. Mary E. Hazzard
Ms. Maureen A. Quinn
Dr. Ellen Baer
Mrs. Maureen Heasley
Mrs. Suzanne P. Ranieri
Dr. Elizabeth A.M. Barrett
Dr. Carol Hess-Haber
Mrs. Linda Yauch Reese
Dr. Mary Jane Barry

The International Association for

Human Caring

Ms. Kathleen B. Rickard
Ms. Patricia J. Bartzak
Mrs. Brenda Jahn
Mrs. Susan M. Rose
Mrs. Joan M. Beicke
Dr. Barbara S. Joyce
Dr. Mary E. Segall
Dr. Rosemarie Onuska Berman
Dr. Carolyn R. Lansberry
Dr. Nancy C. Sharts-Hopko
Mrs. Constance Bacha Besen
Dr. Dorothy M. Larkin
Ms. Peggy Z. Shipley
Mrs. Barbara W. Bilek
Dr. Phyllis Lisanti
Ms. L. Sharon Shisler
Dr. Evelyn R. Bohm
Dr. Yuen Chou Liu
Ms. Ann C. Smith
Ms. Jeanne M. Campion
Dr. Arlene J. Lowenstein
Dr. Ann Sullivan Smith
Mrs. Eleanor B. Carren
Dr. Violet M. Malinski
Ms. Ella M. K. Smith
Miss Joanne C. Chipego
Dr. Gail Berkson Malloy
Ms. Marion Smith
Dr. Judith J. Chodil
Dr. Frank E. McLaughlin
Dr. Marlaine Cappelli Smith
Dr. Candace C. Coggins
Mrs. Catherine W. McManus
The Society of Rogerian Scholars
Dr. Colleen Conway-Welch
Mrs. Harriet Gilbert Milde
Mrs. Donna H. Steele
Ms. Diane P. Cuff-Carney
Dr. Patricia Anne Moccia
Dr. Neville E. Strumpf
Mrs. Susan E. A. Davidson
Ms. JoAnn F. Morici
Ms. Elizabeth A. Traynor
Ms. Barbara Blass De Simone
Ms. Roberta S. O'Grady
Dr. Maria L. Vezina
Dr. Dorothy Jengo DeMaio
Dr. Marya Olgas
Dr. Karen A. von Kaenel
Ms. Rosemary Jambor Estoup
Ms. Patricia A. O'Rourke
Mrs. Carol Feiker Wetherbee
Dr. Arlene T. Farren
Dr. Jeanne Lynch Paletta
Mrs. Sheila Wilk
Dr. Jacqueline Mabel Fawcett
Ms. Sarah B. Pasternack
Dr. Rosanne Wille Jacobs
Dr. Joyce J. Fitzpatrick
Ms. Margaret Dexheimer Pharris
Mrs. Alice Tenzer Worth
Dr. Catherine Taylor Foster
Dr. Margaret H. Pipchick
Dr. Barbara W. Wright
Dr. Evelyn Clark Gioiella
Dr. E. Carol Polifroni
Dr. Edilma Lynch Yearwood